Pick up a copy of the newspaper at your local newsstand!


PAGE UPDATED BY MARIA SIEVERDING FEBRUARY 4, 2016 10 A.M.
Arrest made in co-op case
Indiana State Police arrested Steven D. Linville, 46, Osgood, on 17 counts of theft and 17 counts of making/delivering a false sales document at his home early Monday morning.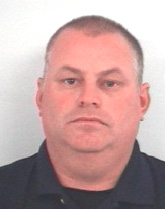 SUBMITTED PHOTO
Pictured left is Steve D. Linville.
The state police investigation, led by Detective Kip Main, began in November, 2015 when the Laughery Valley Ag Co-Op, reported a theft.  The investigation led to charges being filed Friday in Ripley County Circuit Court against Linville, who was a Laughery Valley Ag Co-Op employee when the crimes occurred. Linville allegedly stole in excess of $100,000 in fuel, oil, washer fluid, and antifreeze from his employer over a period of a year.  Linville then allegedly sold the stolen items to Bob's Service Station in Osgood.  Bob's Service Station is owned by Linville's uncle, Bob Linville, who is an elected Ripley County Commissioner.  An arrest warrant was issued for Steven Linville out of the Ripley County Superior Court Monday morning. The theft and forgery charges are level 6 felonies. Linville was transported to the Ripley County Jail where he soon bonded out after posting the bond which was set at $1,050.  No further charges and no further arrests are expected in this case at this time, according to the state police. Linville will soon be given an initial court appearance date in the Ripley County Circuit Court.

Prosecutor named
In a related case, a special prosecutor has been named in the Bob Linville investigation. David Thomas, a former Clay County prosecutor, was named by Judge Jeff Sharp Wednesday. Thomas currently lives in Franklin County. Prosecutor Ric Hertel had filed the motion for a special prosecutor in the case due to a conflict since Bob Linville is a county commissioner. The commissioners set policy over county government offices, including the prosecutor's office. State police are investigating the case.
Find these stories and more in The Versailles Republican dated Feb. 4, 2016.

• First meeting for Sunman board

• Milan 54 player talks about basketball miracles

• New arrivals at Osgood and Milan libraries

• Child molester arrested

At the newspaper office
Candidate list sign-ups begin
Ripley Publishing will be running a continuous candidate listing beginning March 13. For $125 your name along with the office you are running for will appear in both newspapers through the May Primary Election. In addition, you will receive a free press release along with a photo in one of the newspapers. The press release must be written in third person and submitted to our office along with a photo. Arrangements can be made to have a photo taken in our office. You can sign up to get on the list beginning Feb. 1. Please call 812-689-6364 or email us at publication@ripleynews.com or stop by our office at 115 S Washington Street in Versailles to get your name on the list.
Share your news with the community!
• Got a news tip or photo?
Submit past images with a description to
mmattingly@ripleynews.com
or PO Box 158, Versailles, IN 47042. Call Ripley Publishing at 812-689-6364 for more information.
• Send us your school news!
Submit your school news and photos with a detailed description to
mmattingly@ripleynews.com
.
• Want to see your special moments in print?
Send us anniversary, engagement, wedding, and other special event photos with a description to
mmattingly@ripleynews.com
or stop by the office at 115 S. Washington St. in Versailles. Call 812-689-6364 for more information.