INSERTS IN PRINT EDITION
• JayC Food Stores
• CVS Pharmacy
• Dish Authorized Retailer
• Over $50 in Red Plum coupons

April 24, 2014 • Headlines
Harding was anti-slavery activist
Law books from county's famous attorney returned
The law books of Stephen S. Harding, one of Ripley County's most notable attorneys, and one who led a strong abolition movement in Indiana during the Civil War have returned home.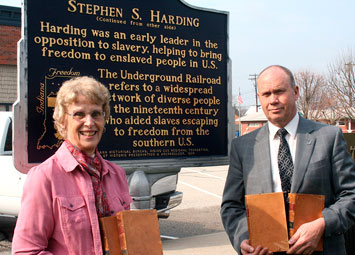 MARY MATTINGLY PHOTO

Cheryl Welch and Mike Stratton show off Harding's law books returned to the Ripley County Historical Society.


Ripley County Historian Mike Stratton received the books from Michael Westfall of Lynchburg, Virginia, and formerly of Fort Wayne. Westfall had acquired the books from Rodney Brandes of Batesville. Westfall was a project manager for Parkview Health Systems in Ft. Wayne and Brandes was working as a sales rep for Hill-Rom. Brandes shared with Westfall that Brandes' parents had owned the old Harding home, which is how the books came into his possession. Brandes recalled the old home, which his parents sold in 1947, having a tunnel as well as false ceilings. Brandes gave the books to Westfall in the mid 1990's and Westfall, active in the Indiana Historical Society, recognized the worth of the books and the importance that they be returned to Harding's home county.
Stephen S. Harding was born near Palmyra, New York, on February 24, 1808, and his family settled at Old Milan in Franklin Township in 1820. In 1824 Harding taught school at Old Milan and a year later gave his first public speech to his neighbors on July 4. In 1827, he passed the bar and in 1828 he set out for New Orleans with dreams of practicing law in the South.

Much like Abraham Lincoln, the sights of slave traders in New Orleans and Vicksburg horrified him and he returned home. In 1830 Harding was appointed Ripley County attorney with his office located in Versailles. About that same time, Harding began to subscribe to anti-slavery journals and newspapers and soon became one of Indiana's most knowledgeable people on the issues and arguments of institutional slavery.

By 1840 Harding had amassed a large amount of land in Franklin Township, had opened a store and was postmaster at Old Milan, all the while keeping the anti-slavery flames burning brightly. Also during this time, Harding broke with the Whig Party because of its weak anti-slavery plank and ran unsuccessfully for Indiana Lt. Governor as a member of the Liberty Party. Harding's home at Old Milan also became a part of the Underground Railroad.

On March 31, 1862, President Lincoln appointed Stephen S. Harding Territorial Governor of Utah. While there, Harding was exposed to Mormon polygamy as Brigham Young introduced the new governor to three of his wives. He held the governor's post until early 1865, when he was appointed a District Judge in Colorado and Utah, a job he resigned in late 1865 to return to Indiana to practice law. The assassination of President Lincoln affected Harding grievously and for the next two decades he continued his law practice and gave more attention to his poetry. He composed about 44 poems, but by 1880 had lost his eyesight.

Stephen S. Harding died at Old Milan on February 11, 1891, and was buried at the Greendale Cemetery in Lawrenceburg. A collection of his letters and other information has been established at the Ripley County Historical Society's Archives in Versailles. Brandes said that he was delighted that the old books had made their way back to Ripley County and were now in the hands of the Ripley County Historical Society. They are open weekdays from 1 to 4 p.m., and located on Washington Street by the courthouse.



Man found at park with gunshot wound


A man was air-cared Wednesday morning from the Versailles State Park following a self-inflicted gunshot wound. According to Conservation Public Information Officer Corey Norrod, police were alerted Tuesday at 3:45 p.m. that Thomas A. Ball, 41, of Beech Grove, left home with a handgun. His mother contacted police and had a tip he might be at the state park.

Ball's vehicle was spotted near the pool. Police observed him around 7 a.m. in the beach restroom area. When Ball was asked to identify himself, he went into the restroom and that is when authorities heard a single gunshot. Ball was transported to University of Cincinnati Medical Center for a self-inflicted gunshot wound to the head. He is listed in critical condition.
Pick up this week's edition of The Versailles Republican for the stories below and more local news. Subscribe by clicking the subscribe link or call 812-689-6364.

• Milan wants public input for dam
• Milan senior named academic all-star
• Spring Home & Garden Guide