FIND IT IN THE PRINT EDITION!
• JayC Food Stores • CVS Pharmacy
• Red Plum coupons • Walmart
• Dollar General
• Recent Engagements and Weddings

Visit our advertiser's website by
clicking on their ad!

March 26, 2015 • Headlines
Emergency Management Agency prepares for disasters
Mary Mattingly
EDITOR
mmattingly@ripleynews.com


Fifty years ago, on Palm Sunday, the worst tornado with the largest number of fatalities and outbreaks occurred in Indiana. In 1990, 25 years ago, the Hoosier state had the greatest number of tornadoes in a single event, and three years ago, straight line winds and powerful tornado activity caused loss of life in the state, including three in Ripley County.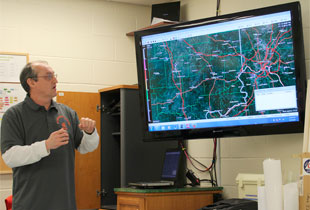 SUBMITTED PHOTO

Weather specialist Rich Corkhum, pictured left, goes over the weather monitors and other equipment at a recent Emergency Management Agency training at the county Emergency Operations Center.


Many have not forgotten that 2012 severe weather event. Patrick Rose hasn't either. He was one year into his role as the county's Emergency Management Agency director when the tornado struck the southern part of the county. Under Indiana statute, the purpose of the agency is to provide coordination of resources, and decision making during disasters. It operates under the authority of the Ripley County Board of County Commissioners, who appoint the Director, and is a branch of county government. As EMA director, Rose has since acted upon the disaster, making improvements for response, recovery and coordination. He's learned rebuilding doesn't happen overnight, despite the generosity and goodwill of many. "A disaster takes five years to recover as a community, and not just physically but psychologically," he said. The 2012 tornado made another generation realize it can happen here, in their backyard, not just across the state or something you see on the nightly news.

People have told Rose that because of the March 2 tornado, they are more anxious about severe weather and take advisories more seriously. That could be a good thing, because to be on the safe side, he would advise people to "Treat a tornado watch like a warning. It happens so suddenly you may not have time to get to safety." Timely advice since it comes during the spring months when severe weather is more common. Severe weather can hit anytime and be unpredictable. In 2011, a record 72 tornadoes occurred including 32 on April 19 and 26 on May 25, both exceeding the average of 21 in a year in Indiana. June and September 2008 were the costlier Indiana disasters on record. Rose agrees that flooding is an expensive disaster, but wind events and Hazmat release are most common in this county. (There was actually a Hazmat event over the weekend with a semi tractor accident spill.)


Changes as a result

The county EMA has made some changes as a result of the 2012 Ef3 tornado in Holton. Rose said, "We developed an EOC (Emergency Operations Center). We learned about volunteer and donation management." And, he's continuing to work on communication, improving media relations and sharing the message quickly and effectively. There are sirens activated by fire departments throughout the county to alert residents, but radio, TV, print and social media can, if used effectively, help spread important messages about weather forecasts, disaster recovery, community needs and more.

Rose relies on a network of first responders, meteorologists, weather services and Indiana Homeland Security. He works closely with amateur radio dispatchers, fire departments, EMS, county and city government leaders, church ministers, Red Cross and Salvation Army, and the Local Emergency Planning Committee. The EOC office is located by the jail in Versailles, on the bottom floor with restricted access. It has the latest technology, including GR3 radar, National Weather Service weather chat, situational maps and smart boards. The idea is for Rose and other first responders to gather there as weather develops rather than to chase storms. The EMA county office also has a deputy director (Jeff Thielking), communications assistant (Ollie Craig), weather officer, runners, officers and more. The EMA director and staff are not just working when there's a disaster. Most of their work is before, in preparedness, education and communication. The EMA director provides information on disaster preparedness.  Each year RCEMA responds to numerous small incidents.  Besides weather events, these include transportation accidents, hazardous material incident, and others. 

It's a myth that you can't prepare for a disaster. As the Dept. of Homeland Security notes, making a plan, building an emergency kit and learning about common local risks can help increase safety. Rose agrees that planning and preparedness can save lives. He gives credit to the folks in Ripley County for common sense. "I feel rural residents are better prepared. They are more self sufficient." And they care for each other. Even though a shelter was set up, he noted few used the town's shelter in 2012 when the tornado struck, and instead went with family or neighbors.

Myths dispelled
The Indiana Department of Homeland Security is debunking a few myths.



Manufactured buildings often can't stand up to the wind speed and pressure, and are not safe shelters during a tornado.


When traveling during a tornado, an underpass is one of the worst places to take shelter. Wind speeds can increase, while flowing under the structure, and serious injuries can occur.



Opening windows does not help equalize pressure, and spending the time cracking those windows can use up valuable seconds needed to take shelter.



Floods can impact properties no matter where they are located, even low-lying areas.