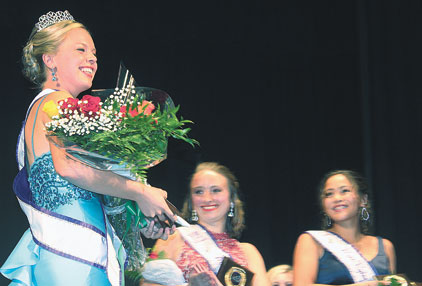 WANDA ENGLISH BURNETT PHOTO
At left, 2018 Miss Ripley County Alyssa Brinkman was all smiles as she took the first walk to begin the journey that will last until this time next year.

Wanda English Burnett
Editor

Amidst the glitz and glitter of the 2018 Miss Ripley County Queen Contest held Sunday night, July 15, Alyssa Brinkman, 17 of Milan, took the coveted crown and joined 59 other queens who have been crowned over the years.

"I feel like Cinderella", Brinkman said close to tears as she and her court took countless photos on stage under the lights. Dressed in a teal gown that gave a peek of sparkle showing the bejeweled train as she walked, she said she was just excited to be able to represent the county and fair that she loves. She not only took the Miss Ripley County title, but also was given the award for Miss Congeniality, and the award for professional wear. She first appeared on stage in her English riding outfit. This is where the contestants wear something that depicts their hobby. In the professional wear, she donned a smart black suit and walked with confidence as the emcee told how she enjoyed animals, especially horses and also enjoyed volunteering at her church.

Kayla Meyer, 16, Batesville, was named fourth runner up and also received the formal wear award; third runner up went to Victoria Gobel, 18, Sunman; second runner up went to Michaela Diem, 18, Versailles; and first runner up was claimed by Baylee Dwenger, 18 of Osgood, who said she is looking forward to getting to see the younger kids at the fair and being with the animals. When she appeared in her hobby attire, she wore a royal blue gown that she had sewn herself and won a blue ribbon at the state fair.

Diem was excited and said it was the first time she had entered the pageant. Gobel, who is used to competing on stage in dance, said although she has done this type of thing before, it wasn't for the Miss Ripley County pageant, and she was thankful to have been chosen. All of the court agreed they are looking forward to being at the Ripley County 4-H Fair that begins Sunday, July 22. Kayla Meyer said this was her first try at the pageant, and was very excited about being chosen to be in the Queen's court.

The People's Choice Award went to Andrea Myers, 16, of Madison, who will be a senior at South Ripley High School this fall. The People's Choice Award is determined by the public, who vote with money. Altogether the girls raised $950, which will be given to food banks in Ripley County.

All of the chosen court sported sashes with the Queen getting a scholarship of $750; first runner up received $150 and the rest will receive $100 each for being in the court.

When the questions portion of the pageant was held, Brinkman's question was if she could have brains, beauty and/or wealth, which would she choose and why. Without hesitation she said "brains". She noted that looks will fade and if you have brains you can achieve wealth. The girls one by one took a question, and answered on the spur of the moment. Gobel said she is proud to be from Ripley County because the people have supported her.

Although Madison Wiedeman didn't place in the pageant, she brought the most laughter from the crowd when she answered her question. She was asked what her favorite food was. "Ice cream," she quickly said, and then said, "my dad gave us ice cream for breakfast". She looked spectacular as did all of the contestants. Another pageant contestant was Brooke Heaton, dressed in sparkly red, who said she wasn't interested in being famous, but rather, "I just want to be who I am".

The pageant was billed as "60 Years of Ripley County Stars" with stars glowing on the side walls of the historic Damm Theatre in Osgood. Twenty-two of the former queens were in attendance at the event, with the first queen Letitia "Tish" (Gookins) Burill, looking great in a flower print dress.

One queen from Ripley County went all the way to win the State contest back in 1965. That was Theresa or as many called her "Cissy" Smith. She is the daughter of Katie Smith of Versailles and the late Alan Smith. When she won the state title, some residents of Versailles remember the town having a parade for her.

Mandy Thompson Lohrum was the 2002 Miss Ripley County and together with her daughter, McKenzie, watched the pageant. Her daughter was thrilled with the event, noticing every detail. Perhaps she will be a queen someday. After all, last year's queen, Hanna Speer was just a baby when her big sister, Amberley (Speer) Green took the title in 1999. Lil Miss Ripley County Princess Callie Comer was at the pageant, and is ready to crown the next Princess on Wednesday night, July 25 at the 4-H Fair. When asked what her favorite thing about reigning as Miss Ripley County for a year was, Hanna said being with her cousin (Callie Comer) at the fair. Don Comer of Holton, proud grandfather of both Hanna and Callie, said "it's really special" when asked what he thought about the girls taking queen and princess status.

The event, which was flawless, took a lot of preparation on the part of the committee members who are co-chairs, Amanda Kunz and Monica Hansen; Kristy Sams, Sarah Adams, Sarah Wenning, Ashley Bittick (who co- emceed the event with Darrin Engleking of WRBI)), Debbie Ertel and Sarah Wenning. Miss Ripley County 2017 Hanna Speer also was on the committee.

The judges were Nathan Floyd, Annie Romine and Christa Carson-Weaver with Ashley Werning being the Judge's Chair.

Many moving parts made up the 2018 Miss Ripley County Pageant with choices made and girls getting ready to fulfill their duties handing out ribbons and much more at the Ripley County 4-H Fair next week, July 22-28.