Coach Jim Cole's SR Raider Cross Country Team continues to blaze trail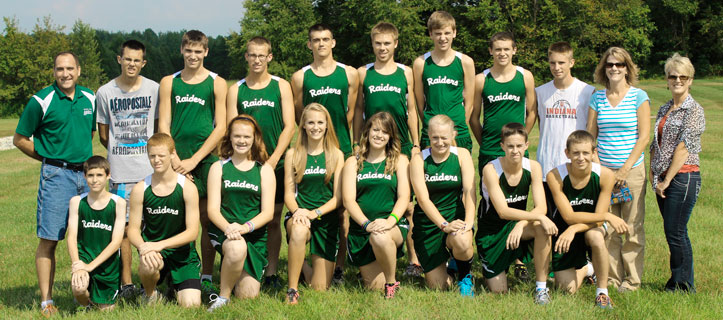 GARY FRANKLIN PHOTO
The 2013 South Ripley Raider Cross Country Team pictured kneeling from left above includes: Matt Zigan, Andrew Herbert, Emma Roark, Isabella Gramaglia, Kendra Franklin, Sarah Boyken, Bryan McCombs, and Austin Bradley. Standing are: Head Coach Jim Cole, Parker Jahnigen, Michael Bradley, JC Boyken, Austin Allen, Michael Harris, Patrick Cole, Andrew Austin, SR graduate Josh Huntington, and coach assistants Karen Cole and Laurie Gramaglia.
By Gary Franklin
SPORTS EDITOR

Happy with the outlook of a new season with hard-working Raider athletes, Coach Jim Cole found positivity in their first outing during the South Decatur HS hosted cross country meet on August 29.

The Raider boys connected on the high road, capturing first place among the five-team meet that included South Ripley, Jac-Cen-Del, Milan, Trinity Lutheran, and hosting South Decatur.

The SR boys winning team score was 34, with overall individual finish positions as follows:
2nd Austin Allen
4th JC Boyken
6th Austin Bradley
9th Michael Harris
13th Michael Bradley
15th Bryan McCombs
20th Patrick Cole

So. Decatur Invitationals team finishes:
Boys
South Ripley Raiders 34
Trinity Luth. Cougars 53
Jac-Cen-Del Eagles 73
So. Decatur Cougars 78
Milan Indians Inc.

Girls
Jac-Cen-Del Eagles 16
Trin. Luth. Cougars 39
South Ripley Raiders Inc.
So. Decatur Cougars Inc.
Milan Indians Inc.

Lady Raider results:
3rd Isabella Gramaglia,
20th Kendra Franklin and
21st Emma Roark
JCD Eagles third
The JCD boys scored 68 for third place. Individual finish positions posted included:
3rd Christopher Kissel
8th Ethan Adams
10th Rodney Dobbs
26th Jacob Dodge
27th Jeffry Crum

Lady Eagles First
Finishing first with a team score of 16 for the event, the Lady Eagle runner individual finishes included:
2nd Jenna Hughes
4th Kelsey Bowling
5th Kayla Bowling
8th Jacqlyn Menchhofer
12th Abby Wagner
18th Sasha Wagner
22nd Teha Merkel

Milan Indian finishes:
Boys
19th Braden Burdett
22st Jarrod Nichols
23rd Devon Rosenbarger
28th Nathaniel Walter

Lady Indian results:
6th Kristin Honeycutt
13th Lauren Thomas
16th Isabelle Ortt
17th Marisa Combs