Pick up a copy of the newspaper at your local newsstand.



PAGE UPDATED BY MARIA SIEVERDING DECEMBER 12, 2017.
SR Lady Raiders devastate visiting Shawe Lady Hilltoppers, 73-19
Gary Franklin
SPORTS EDITOR
The hosting South Ripley Lady Raider Varsity homestand, against the visiting Shawe Lady Hilltoppers, resulted in a Lady Raider 73-19 blow out on Thursday evening, December 7. A highlight for the Lady Hilltoppers was a drilled 3 pointer delivered at the halftime horn by #12 Jr. Kate Grote, that earned her five of the seven total scored in their opening half of play.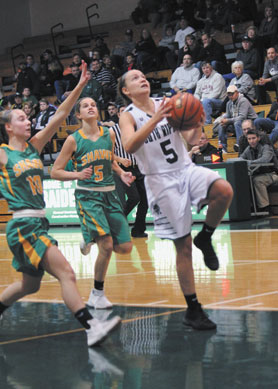 GARY FRANKLIN PHOTO
This pictured break away scoring photo of South Ripley Lady Raider junior Morgan Peetz #5, pretty much tells it all in one frame as she is pursued by Shawe Lady Hilltopper freshmen: #10 Phoebe Grote and #5 Abigail Hill in the pursuit. Peetz collected a dozen points in their 73-19 win over visiting Shawe.
Varsity Quarter Score
So Ripley 21 37 61 73
Mad Shawe 2 7 11 19
SR Individual Scoring 73
30 Sr Toria Tucker 18
35 Jr Elexah Roepke 17
5 Jr Morgan Peetz 12
1 Sr Mariah Gentile 9
20 Sr Kiley Sparks 6
10 Sr Julia Rea 4
43 So Cierra Copeland 4
11 Sr Cameo Hamm 3
12 Sr Haley Bishop 0
23 Sr Jill Scott Inj
Mad Shawe Ind Scoring 19
12 Jr Kate Grote 12
34 Sr Megan Hesse 4
24 Sr Katelyn May 2
5 Fr Abigail Hill 1
10 Fr Phoebe Grote 0
30 So Grace McAllister 0
32 Sr Ellen Frede 0
33 Sr Erin Cooper 0
As a filler for the opening slot, a Lady Raider JV scrimmage found the visiting Triton Central Lady Tigers putting it on the hosting SR Lady Raiders in a quite similar fashion.