Pick up a copy of the newspaper at your local newsstand.



PAGE UPDATED BY MARIA SIEVERDING OCTOBER 17, 2017.
Ripley Wranglers fall horse spectacular a hit!
Gary Franklin
SPORTS EDITOR
In an ever challenging effort to procure funding to help keep their area horse enthusiasts among the top in the state, the Ripley Wranglers 4-H support group set out to host a fall horse show at the Ripley County 4-H Fairgrounds horse facility. The event took place on Saturday evening September 30, with competition exhibitions followed all day Sunday, October 1, with a Western Show.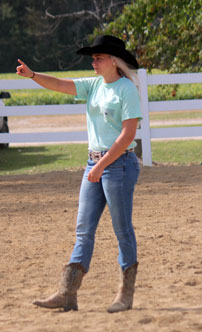 GARY FRANKLIN PHOTO
Pictured left, during the 2017 Ripley Wrangler First held Fall Spectacular, Ripley Wrangler 4-Her Morgan Peetz as ring stewart signals to the announcer that the judges' pleasure is that the horses be shown at a walk.
The show was a huge success with horse and rider combination entries totaling 108 and coming from 13 and towns including Osgood, Holton, Versailles, Dillsboro, Batesville, and Milan; also from Brookville, Shelbyville, Vevay, Trafalgar, Austin, Madison, and Bedford. If success was merely based on smiles, it was over the top. If by money raised to use toward prizes and activities for the 2018 4-H Fair Horse & Pony Club exhibitors, that would merit most positive as well.
Much gratitude is extended to the parents and sponsors who are willing to provide help and assist wherever they are needed to make it one of the best possible programs to be found anywhere around, and to exhibitor/competitor participants. It was another fun, entertaining and exciting event sponsored by the Ripley Wranglers 4-H Club.