Milan updating facility safety plan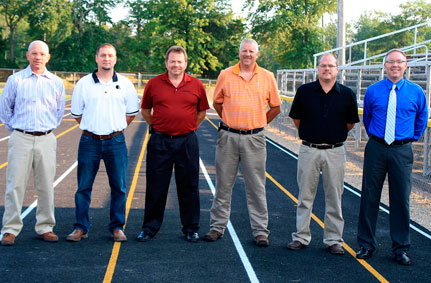 CINDY WARD PHOTO
From left are Randy Kirk, Jason Honeycutt, Board President Timothy Tuttle, Ed Amberger, Gregory Lewis and Superintendent Paul Ketcham on the newly renovated track at Milan High School
By Cindy Ward
STAFF WRITER
cward@ripleynews.com
In the wake of widely publicized tragedies involving school shootings, school administrators across the country are taking extra measures to ensure maximum safety for their students, faculty and staff, and Milan School Corporation is no exception. Superintendent Paul Ketcham said during the Aug. 19 regular meeting of the Milan Board of School Trustees that safety is a major concern and they have been proactive in updating the school's safety plan.

The plan now states that all doors at the school buildings have been lettered and copies of the "letter outline" will be given to local police and fire departments. Ketcham said this should cut down on emergency response time if disaster were to strike. He also noted that he has given Ripley County Sheriff Tom Grills complete access to the cameras in the school building, explaining this is another layer of protection at no cost. He said they are also cooperating with Indiana State Police and have given them permission to have police walk-throughs, meaning they can stop in anytime they are in the area and interact with students in the buildings.

Prior to the meeting, school board members, along with Ketcham, visited the newly renovated track at the high school. The old track was completely torn out and disposed of and a new base was laid, along with new asphalt and a rubberized coat and new painted lines. There was also some aesthetic work which completed the look.

Budget
A public budget hearing has been scheduled for 6:30 p.m., Monday, Sept. 16, prior to the regular board meeting, in the school's administration building. The budget adoption will take place at 6:45 p.m., Monday, Oct. 21, just before the regular board meeting that month. Board members granted Ketcham authority to attend the budget hearing and make any appropriate necessary changes in the school's budget plan.

Read the entire article in this week's Osgood Journal.
Workin' hard, or hard work
First jobs, hardest jobs? Something to think about on Labor Day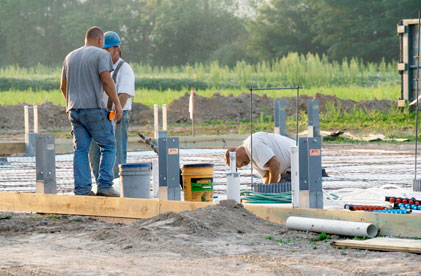 MARY MATTINGLY PHOTO
Many may say construction work is the hardest, or most physically demanding job. These general laborers were working on the Delaware firehouse building last week and said they didn't think construction was difficult, and were happy to be working.
By Mary Mattingly
EDITOR
mmattingly@ripleynews.com
What's the hardest job you've had? Was it hard because of the physical labor or the mental task? In lieu of Labor Day, when we're not supposed to be working, we posed that question to several people in various walks of life. We also asked them about their first jobs, what they learned from the experience, etc.

Paul Ketcham, in his first year as superintendent of Milan Community Schools, said his summer job in construction was hard manual labor. "Shoveling gravel, carrying lumber and hammering nails. I learned how important a positive attitude was. It was easy to be negative on a job site when it was 95 degrees and some obstacle came up on that job site, but I saw the difference in job performance from those guys who stayed positive and worked through it, and those guys who wanted to dwell on the negatives."

Marty Ruehl, Versailles area, didn't hesitate when asked what his hardest job was: "Roofing." He did it for five years until he found something more down to earth.

Some weren't thinking physical labor. Karen Sieverding, Versailles, said the hardest job she's ever had "is being a mom. It's also the best job. " She talked about responsibility, worry, and no matter the age, it doesn't cease for a mom. Her first job actually was a prelude to her hardest job: babysitting. Husband Ben, a fire chief and teacher, said his hardest job ever would be blacktopping, but his most important job "is as a father and good husband."

Wendy Meyer, the mother of four ages 19 to 9, agreed with Karen Sieverding that being a mother is probably her hardest job. She works in the child division of the prosecutor's office.

A mother of two who works in the sheriff's administration office, Robin Stegemiller agrees. "It's 24-7. It never ends but just pulls at your heart and you'd walk through fire for your kids." You cry when they hurt, and relish in their good moments. She did recall her first job as a waitress at the old Colonial Cottage Restaurant on 421 South. "I saved my tips and bought my first leather coat at Pogues in Cincinnati." It was a big deal. It cost $78 but worth it, she said, because she wanted to look good at the pumpkin show festivities.

John Brown, the Versailles Cash Saver manager, said his hardest job was being a sales rep for a beef product. It was due to the hours and being away from home, he said, not the actual task. He had one-year-old twins at the time. He did recall his first job was in the grocery business, as a bag boy making $2.20 an hour. "I thought I was rich!"

Arlene Utter said her hardest job was selling Avon products. She was 23 at the time, and either no one was home when she came calling, or they avoided her when it came to collection. She also said it was hard working in the kitchen at a nursing home because the seniors often complained about the food.

Farm work is not considered an easy way of life either. Becky Horn goes back to her youth and said she hated detasseling. "I was 15 years old and it was hot." But she did like the paycheck. "I did get a new pair of boots out of it!"

Charla McEvoy, Michigan Road, said the factory jobs she's had were easy compared to dairy farming Her husband, Steve, agreed. They farm hay now, and that's not as tough as the cow business. (A CareerCast Jobs Rated List of 2013 report of the best and worst jobs actually ranked dairy farming as No. 6 in the worst category.)

For some it wasn't the physical task, but the mental stress.
Business owner Jerry Gilpin said his most physically strenuous job was loading semis with flowers. He had 2,500 trays to move within 2 hours. But mentally, the most challenging job, is his current one, managing four businesses and 11 employees. His first job was building pallets as a 14 year old and making $1.50 an hour.

Ripley County Auditor Bill Wagner has done blacktopping, mowing, farm work and welding, but says his current job is the most difficult mentally. "Working in government is so different than a normal job in the real world. All the regulations, the various calendar years, the different revenue sources," he said. He's in his fourth year as auditor, an elected position.

Holley Rose, who works as the public health coordinator at the county health department, said she worked at a long-term, health-care facility and it was hard to see patients she grew fond of become worse physically. However, she said, "It was rewarding for me. I feel they taught me a lot of life lessons." Her first job, she recalls, still lingers with her. It was at the co-op hardware store counting washers, nuts and bolts. "I can still almost smell the coffee, oil, peanuts and dust to this day!"

Jane Rogers says she learned to make change and count backwards from her first job behind the counter at Spencer Tyson Pharmacy. Moreover, she learned the value of interacting with people from the owners, Alan and Katie Smith. "Katie and Alan were pros at people skills, never knowing a stranger and making everyone feel comfortable in their hometown store." She's carried that attitude over to her current job as Milan Elementary principal. "I love my job! But balancing that with state funding cutbacks and mandates for evaluation and assessment make it challenging to do what is truly best for kids."

Ripley County Prosecutor Ric Hertel said the physically most challenging job was being a roofer, a job he had in the summer at college. He was on a flat roof with buckets of tar. "It was super hot," he recalled, and he often got dehydrated. He also got a kick out of the "cast of characters" as he called his co-workers. "It was good money and I learned I did not want to do that forever!" Mentally, his current job as prosecutor is the toughest. "At least as a roofer I could leave the job on the roof,so to speak, but not with this one, s" he said.


Pick up this week's edition of the Osgood Journal for the stories below and more local news. Subscribe by clicking the subscribe link or call 812-689-6364.

• Promoting safety in Hoosier schools
• Road improvement could draw jobs
• Holton proposing budget increase