Jac-Cen-Del Lady Eagles and South Ripley Lady Raiders battle it out on the volleyball court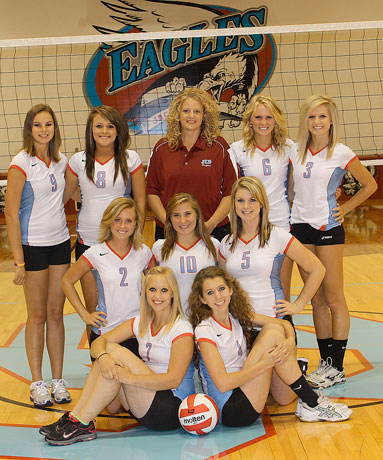 GARY FRANKLIN PHOTO
The 2013 Jac-Cen-Del Lady Eagle Varsity Volleyball Team pictured front from left includes: Tori Walke (7) and Skila Catron (4); center row: Lindsey Sutton (2), Danielle Newhart (10) and Laura Detmer (5); top row: Jillian Gehl (9), Hayley Bruns (8), Coach Tammy Shaw, Shelbie Huffmeyer (6), and Jordan Day (3).
By Gary Franklin
SPORTS EDITOR

On August 23, in early volleyball season action, the Jac-Cen-Del Lady Eagles traveled to South Ripley to contest the rival Lady Raiders. Both teams enjoyed the support of solid backing in the bleachers and at courtside.

JV Match
Game One
In JV action, the visiting Lady Eagles sealed the first game win off a serve by sophomore Andrea Adams to the final count of 25-15.

Game Two
The hosting Lady Raiders claimed the second game victory by the final count of 25-17, forcing the third game to determine a winner.

Game Three
Early Lady Eagle action positioned them to capture the rubber match to 15; however, as with all sports, until the last point is on the board, it is an open book.

The Lady Raider efforts posed them to take control before game's end; however, JCD managed to knot the game at 14.

Games to 25 must be won by two points, not so for the rubber round to 15. Lady Eagle freshman Kayla Bowling toed the line for service to watch her drive slide right out of bounds, giving South Ripley the 2-1 match victory.

Varsity Match
Game One
Opening varsity action resulted in the visiting Lady Eagles sealing the first game win the final count of 25-16.

Game Two
The hosting Lady Raiders knotted the match at a game apiece with the second game victory by the final count of 25-17.

Game Three
The Lady Raider efforts fell short in the third game of the best-of-five series, 21-25, allowing JCD to gain a 2-1 game edge.

Game Four
The Lady Eagles managed to claim the 3-1 match victory in the fourth game by a count of 25-20.