If couple wins, prize money goes to non-profit
Local BBQ heading for the big time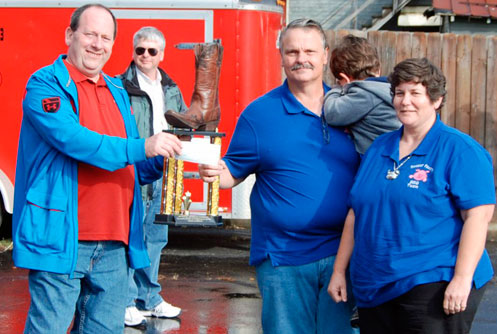 SUBMITTED PHOTO
Jeff and Gayle Hacker, with grandson Peyton, receive the Grand Champion award for the Ohio Smoked Meat Festival last year.


By Mary Mattingly
EDITOR
mmattingly@ripleynews.com
A Versailles couple is on the way to the "Super Bowl" of barbecue contests.
Under the name of Hoosier Favorite Barbeque (BBQ), Jeff and Gayle Hacker have entered and won numerous barbecue grilling sanctioned contests throughout the country in the past 12 years. They've taken their love for good barbecue to another level and have been competing--and most often winning--in grilling tournaments throughout the country.

They were recently selected to represent Indiana in what Jeff calls the "Super Bowl, the World Series" of such contests, the Jack Daniels World Championship Invitational Tournament. "It just means a lot to get in it," he said. "It's very exclusive."

To compete at the prestigious tournament, domestic teams must win a state championship with at least 25 teams or a competition of 50 teams, or win one of the premiere barbecue competitions that qualify a team for an automatic berth. "For many people on the competitive barbecuing circuit, winning the Jack Daniel's World Championship Invitational Barbecue is the dream of a lifetime," notes Jack Daniel's Master Distiller Jeff Arnett. There will be more than 60 US teams competing for bragging rights. Last year's winner was from Iowa and he took home the $5,000 prize.

The Hackers are living" the dream." They qualified through a Kansas City Barbecue Society (KCBS) sanctioned contest in Nelsonville, Ohio. The KCSB sanctions barbecue and grilling competitions across the US and promotes barbecue as America's cuisine. Hoosier Favorite Barbecue belongs to the KCSB, the largest society of barbecue enthusiants in the world with 15,000 members.

A traditional sanctioned contest requires the teams to cook four meats (chicken, pork ribs, pork butt, and brisket). The cooking source at a sanctioned contest must be of wood, wood pellets or charcoal. The contest winners are eligible for the American Royal Tournament and the Jack Daniels World Championship. The Hackers made the cut for the American Royal, one of 100 out of 7,000 competing teams. It will be in Kansas City in early October.

There are seven categories in the Jack Daniels event, and Jeff feels especially good about their chances of winning the barbecue sauce category. He and Gayle are still working on the right ingredients, "the chemistry" as he calls it for the contest in Lynchburg, Tenn. Fancy grillers are not what make a winner, he insists. "It's time and labor...time to smoke the meat to get the most out of it." He has a favorite $1,100 smoker he likes, and the investment was returned after winning two contests. But he says the Big Green Egg and other all-purpose grills are good for practice too.

A new trailer will actually help him compete this year, he says because "I can concentrate on meat and less on the organization." Gayle is an equal partner in their hobby, and often does the finishing work on the barbecue.

Jeff Hacker is not close-mouthed on his success, and when he mentors other teams tells them to "keep it simple, get a well-balanced mix so when you bite into the meat it's not overwhelming." He says a good meat (which he has found sometimes at CashSaver in Versailles), various mix of rubs, and "lots of practice" are other grilling tips. Knowing how much and when to inject the meat with moisture are also part of the science to it. "You get to have a lot of friends when practicing to make barbecue! I can only eat so much pulled pork," he said and laughed.

The couple enter about 14 such contests a year, and meet all kinds of people. Six years ago he was cooking next to a Texan who knew something about briskets, and shared some rubs and sauces. He later learned he was President George Bush's personal barbecue chef, and kind of a celebrity among the barbecue set.

They also keep it close to home, having competed in Madison's Ribberfest and will in the upcoming contest at St. Leon. Versailles had an amateur, non-sanctioned contest last year.

While they also are in the catering business with their barbecue, it's become much more than a hobby but a cause. The couple uses any proceeds or winnings to go toward Fragile X Society. Their 5 year old grandson, Peyton, who they are raising since his mother died, has the genetic disease. He goes with them to all the contests, as long as his health is good. Jeff is often carting his grandson to Children's Hospital while Gayle works as a nurse. Fragile X can cause intellectual disabilities, behavorial and learning challenges and various physical problems. If anything, Hacker wants to raise awareness of the disease. "I don't want to come in dead last so I can at least give respect due to the society," Hacker said. (Go to the website at www.fragilex.org for information to learn more and how to support it.)

The Hackers will likely feel comfortable in Lynchburg because it's a small town just like Versailles, although it will swell to about 30,000 for the contest. They have lived in Versailles for three years, but raised their three sons, who all live in Ohio now, in Sunman. Jeff and Gayle both graduated from East Central High School as did their sons. They also have six other grandchildren.
Hopefully, they'll return home with a big trophy and cash to donate to Fragile X, but at the least, they will have experienced the pinnacle of all barbecue contests.
Haunted factory to scare teens off drugs

Southeastern Indiana's scariest haunted house, Fear Factory, located at the RomWeber Marketplace in Batesville, opened this past Friday, and will provide six weeks of "terror" according to the press release. The idea behind the haunted factory is to give teens something to do and scare them away from drugs.

Once home to the Batesville Coffin Company, Fear Factory now helps build awareness of drug prevention through its exhibits. Grants from the Ripley County Local Coordinating Council, Ripley County Community Foundation and the City of Batesville have allowed organizers to triple the size of the factory and include various exhibits related to drug and alcohol prevention. One such exhibit is the haunted cemetery which features an eerie music and light show among the tombstones of those who have succumb to the effects of drugs. One unfortunate drunk driver who crashed into the crypt will forever be "employed" at Fear Factory.

The factory has been completely renovated and expanded to nearly 25, 000 square feet. Visitors will encounter a new experience this year thanks in part to the generosity of over 20 Hill-Rom engineers, designers and volunteers who have completely made over every square foot of the factory.

Over 70 area youth and adults have volunteered to be characters in the haunted house which will run Sunday, Sept. 29 & Oct.13 at 1 p.m. to 3 p.m. for a lights on tour with other children activities for those who are afraid of what lurks in the dark, and for the older youth, Friday and Saturday Oct. 4, 5, 18, 19, 25 & 26 from 7 p.m. to 10 p.m. Special tours beginning at midnight on Friday Oct. 4 & 18 will include the upper two floors of the factory.

Admission is $5 per person and the midnight tour is $10 per person. The entrance is on Depot Street. Proceeds will go to Cierra's Club, a Batesville Community Education Foundation organization created after the fatal overdose of a Batesville teenager, and geared toward programs to steer youth away from drugs.

Concessions in the Fright Bite Café will be available, and George & Tony's Arcades will have free games. Visit www.fearfactorybatesville.com for details or like us on Facebook at fearfactory/Romweber.
Pick up this week's edition of the Osgood Journal for the stories below and more local news. Subscribe by clicking the subscribe link or call 812-689-6364.

• Lawsuit filed for loss of pet at state park
• Congress and Syria by Lee Hamilton
• From the superintendent's desk by Dr. Leanna Phillippe