Milan Indian Boys Tennis Team wins first Southern Indiana Tennis Conference Tourney title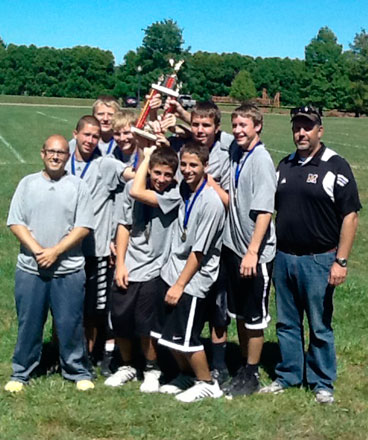 SUBMITTED PHOTO
Continued success for the 2013 Milan Indian Boys Tennis Team is proudly recognized, as team members raise the first earned Southern Indiana Conference Championship trophy for MHS. Pictured from left are: volunteer assistant coach Brad Goldsberry; senior Logan Alloway; junior Dean Elrod; senior Jon Bixler; junior Sam Rehn; junior Luke Rehn; senior Cooper Wade; junior Travis Butte and MHS head tennis coach, Zach Wade.


By Gary Franklin
SPORTS EDITOR

Coach Zach Wade's 2013 Milan Indian boys tennis team continues knocking off the competition one stroke, one set and one match at a time. The team managed a feat not before accomplished by a Milan boys tennis team on Saturday morning, September 7, as they traveled to the Hanover College Zeddies tennis courts and played to their first ever Southern Indiana Tennis Conference Tournament Championship title.

A dedicated effort by the 2013 Indians is proving to make this one of the best seasons in the school's boys tennis history.
After battling to 5-1 match wins during regular season action before the Saturday morning SITC bout, the tournament victory adds much deserved icing to the cake, so to speak. Coach Wade commented following the victory, "We enjoyed a great weekend, winning the first ever Southern Indiana Tennis Conference Tourney on Saturday at Hanover College Zeddies Tennis Center. Milan's players competed in four of the five conference championship divisions - winning them ALL!"

Conference champions for 2013 included: #2 singles Logan Alloway, #3 singles Dean Elrod, #1 doubles Sam Rehn/Luke Rehn and #2 doubles Travis Butte/Jon Bixler.

All champions made the all-conference team including consolation winner Cooper Wade.
SITC Tournament Championship matches and results included:
SINGLES
Milan
Cooper Wade 1 1
Southwestern Hanover
Greggory Cline 6 6
Milan
Logan Alloway 6 6
Southwestern Hanover
Tyler Jones 3 3
Milan
Dean Elrod 6 6
Christian Academy
Logan Cavanaugh 2 2
(SINGLES CONSOLATION)
Milan
Cooper Wade 6 6
Christian Academy
Opponent 2 2
DOUBLES
Milan
Luke Rehn & Sam Rehn 6 6
Southwestern Hanover
Brynen Chitwood & Jarod Perry 0 1
Milan
Travis Butte & Jon Bixler 6 6
Christian Academy
Jack Drake & Justin Hurst 2 2