INSERTS IN PRINT EDITION
• JayC Food Stores
• CVS Pharmacy
• Pleak's Do It Center
• Bass Pro Shops

Visit our advertiser's website by
clicking on their ad!

June 5, 2014 • Headlines
"I was young and foolish, and I didn't think of being scared."
-–Pvt. Carl Swinford, 90, former Milan resident
D-Day...Normandy, France invasion on June 6, 1944

Mary Mattingly
EDITOR
mmattingly@ripleynews.com

Carl Swinford is one of the remaining World War II veterans. There were 16 million Americans who served during WWII, but 555 die every day.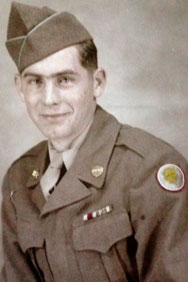 SUBMITTED PHOTO
Pictured left is Pvt. Carl Swinford.


The active 90-year-old also is one of the few soldiers who lived to tell about the D-Day invasion on Normandy, France, on June 6, 1944, 70 years ago. Considered the largest amphibious invasion to take place, Operation Overlord was a massive air and ground attack and naval bombardment. It is considered one of the bloodiest battles ever, and over 2,400 Americans perished. History also dates it as the beginning of the end of the WWII.

Swinford resides in Cincinnati with his daughter Janice but had moved to Milan, about six miles north of the state park, in 1999 and lived there up until two years ago with his wife, Georgellen Gay Swinford. (She is in Alabama where her daughter can care for her. ) He is in good health, having recovered from open-heart surgery in 2012. Retired from GE (General Electric) and his fuel oil delivery business, Swinford still drives and has a good memory of his past 70 years ago. He doesn't mind talking about the war.

Swinford, a private first class Army soldier, arrived on Omaha Beach in the afternoon of the famous allied attack . Their job was to unload supplies for the military forces, he said. Describing the scene, he recalled, "We arrived on shore. There were troops disembarking from transportation, and a battleship cruiser firing into the cliffs." He knew there were many casualties that morning, but said, fortunately, he didn't see them. He did witness the 101st Airborne drop into enemy lines. "All these parachuters in the sky…It was a spectacular sight!"

When asked if he was scared upon hearing his unit of 400 was heading to Normandy, he replied, "In a situation like that, well, I was young and foolish. I didn't think of being scared." He admits though upon arrival, the battle scene did frighten him. It would anyone. "There were all kinds of gun emplacements along the harbor, with firing going on, and planes bombing overhead. "

The ship in front of his was bombed, and the one behind him hit a mine. While in a transport boat, the soldier next to him was struck by gunfire and knocked his helmet off, striking Swinford. He was afraid of what he might see, if he looked down, he told his daughter, but the soldier was okay, the helmet having protected his head.

His unit remained in Normandy for about three weeks with the soldiers sleeping in tents along the beach. From there, they went to Cherbourq, France, then to Germany and Belgium. While there, he guarded POW camps. "It was a lot of older men and young boys. Some were only 14 or 15!" He saw the destruction war had taken on the country. "It was certainly very devastating. Buildings were down. I think it was Churchill who said 'war is hell.' And, a lot of it is."

Swinford, who grew up on a farm in Kentucky, was drafted and initially wanted to join the paratroopers, but he had trouble deciphering colors, so he was not accepted. He was never in direct combat during his 30 months of service, and fortunately didn't lose any close friends or soldiers during his stint. At one point, he was headed to the Battle of the Bulge in France but the German offensive campaign was over before they arrived, much to his relief.

Swinford returned to Germany in 1997 with his daughter and visited places he had not been before. The only thing left he has of his war stint are his ID dog tags. He was glad he could wear them home.


South Ripley graduation
Class of 2014

Sandy Day Howard
CONTRIBUTING WRITER

South Ripley High School held their 48th annual graduation exercises on Saturday, May 31 in the high school gymnasium. Eighty-eight seniors from the class of 2014 marched to the traditional tune "Pomp and Circumstance" played by the high school band, under the direction of Justin Griffin. Senior class sponsors Nancy Durham and Lindsay Seabolt attended to the graduates as they filed into the auditorium. Honored to be chosen as ushers for the ceremony were Natalie Douglas, Zach England, Ashley Moore, and Mary Lynn Ritter, the four top ranked students in the junior class. The 88 seniors and those who came to acknowledge these remarkable young people were welcomed by Salutatorian Kelsey Cumberworth, who completed her high school career with a 3.9615 grade point average.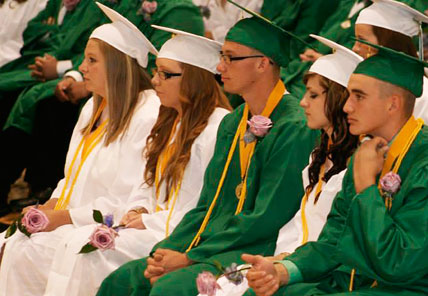 LYNN CUMBERWORTH PHOTO
South Ripley Class of 2014 wait to accept their diplomas. From left, Hayley Fossett, Kyana Clippert, JC Boyken, Kristen Bailey and Trent Moorhead. See more pictures from graduation inside this paper.


"What is it you plan to do with your life?" Kelsey asked her peers. She quoted T.S. Elliot who said, "Only those who risk going too far can possibly find out just how far one can go."

"Remember," she said." Every moment counts. Keep the doors open. Go too far."

The graduates were serenaded by the South Ripley High School choir, who sang "Irish Blessing" and "I Wish You Well, My Friend" directed by Griffin and accompanied on the piano by Assistant Director Mary Gehring.

Among the graduates were senior class officers Andrew Richter, president; Katelyn England, vice-president; Kelsey Cumberworth, secretary; and Shelby Evans, treasurer.

Dr. David Wintin, SRHS Principal addressed the students as he recognized members of the National Honor Society, Southeastern Career Center Award Recipients, and the Class of 2014 Top 10 Academic Honors. Wintin then awarded diplomas to students receiving Core 40, Core 40 with Academic Honors, and Core 40 with Technical Honors. Students were congratulated by Wintin, Superintendent Rob Moorhead and South Ripley school board members.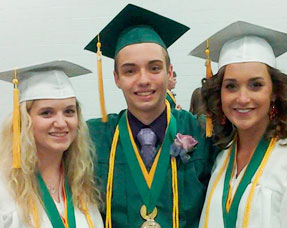 LYNN CUMBERWORTH PHOTO
Salutatorian Kelsey Cumberworth, co-valedictorians Andrew Richter and Emily Cumberworth



Co-valedictorian Emily Cumberworth then took the microphone, snapped a 'selfie' on her iPhone to commemorate her historic moment, and spoke about the future.

"South Ripley has given me the knowledge and opportunities I need to succeed," she said. "Now I just have to continue my determination to achieve my goals with my future education." Emily acquired a 3.9948 GPA during her high school career to solidify the number 1 position in her senior class.

Co-valedictorian Andrew Richter was called to the podium to speak to the crowd, addressing his friends and classmates. Richter spoke about his childhood superhero, Spiderman. "Every one of us has the ability to make a difference in the life of someone else. Our challenge is to discover what superhero is inside us that can impact others…and work to bring that out." Andrew, like Emily, achieved valedictorian status with a 3.9948 GPA.

The gym fell silent when the SR band gave a commanding performance of "Battle Hymn of the Republic," highlighted by Darren Gibbs on the kettle drums. Throughout the ceremony, two chairs draped with green graduation gowns and a single blue ribbon rose sat empty by the stage, reserved for the memory of Curtis Bowman and Jacob Vogel, classmates who died tragically last year in an automobile accident. Richter, who was also elected 2014 class president, led the proud seniors in the tassel ceremony, declaring them 'graduates.'

Superintendent Moorhead, himself a former SR graduate, delivered a message of congratulations and well wishes to the new SR alumni, noting that he spoke not only as the Superintendent of South Ripley Schools, but also as a proud father of one of the 2014 graduates. Moorhead's son Trenton ranked #3 in the class and gave the ceremony's concluding remarks.

In an eloquent speech about humility, Trent quoted his grandfather William 'Gus' Moorhead, former SRHS Principal, who gave him advice in the form of a poem titled, 'The Indispensible Man'. The final line of the poem was this: "Be proud of yourself, but remember….there's no 'indispensible man'."

Trent spoke modestly as he continued, "Although I only spent one year at South Ripley, I will forever consider myself a Raider. Do your best, become your best, and stay humble."

As a rendition of "Onward Christian Soldiers" was sung by the high school choir, the graduates marched from their seats and into their new lives, tossing their mortar boards into the air for good luck and smiling for having reached this milestone in their lives. In the distance, the senior class motto could be heard by the 2014 graduates: "They say good things take time, but the best moments go by in the blink of an eye."



Pick up this week's edition of The Versailles Republican for the stories below and more local news. Subscribe by clicking the subscribe link or call 812-689-6364.

• 1993 tornado etched in local family's memory
• Ohio County woman arrested for murder
• School news