Pick up a copy of the newspaper your local newsstand.







PAGE UPDATED BY MARIA SIEVERDING JULY 25, 2017 1 P.M.


It's back to school for Ripley County kids

Sandy Day Howard
CONTRIBUTING WRITER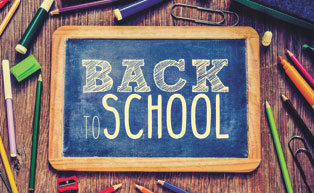 August 3 will mark the end of the summer break for students as they are slated to be in their respective schools across the county that day. While summer break seems like it will never end for some, it is way too short for others and the school year will begin next week.

South Ripley Schools
South Ripley School Corporation is saying "welcome back" with a Back to School Kickoff on Tuesday, August 1 from 5:00 - 7:00 p.m. Meet The Indianapolis Colts Traveling Museum will be on hand and various community organizations and businesses will be represented. A cookout is planned, the Kona-ice truck will be selling treats, and there will be inflatbles to add to the fun. The corporation is inviting students and parents K-12 as well as the entire community.

The school has an entirely new student information system known as 'Skyward' that Superintendent Rob Moorhead claims will greatly improve access to student and school information for parents and teachers. Data Coordinator Kristen Hughes has been spearheading the transition to the new software. The corporation is hopeful that all parents will download the mobile Skyward app that will put school information at their fingertips. Parents are asked to remember that students must be registered online prior to the start of school in order to obtain their schedules and begin classes.

Moorhead says SR is excited about the Readiness Kindergarten program. "We are appreciative to the Rising Sun Regional Foundation for the generous $11,000 grant to help us provide startup supplies and equipment for this program," Moorhead explained. "We have a full allotment of 20 eager students ready to take part in the Readiness Kindergarten program."

Rod Hite will be manning the helm at SRHS. Principal Hite is excited to return to SR and looks forward to working with students and staff once again. Four new teachers have been added to the roster. SRES will welcome Mandy Hite and Lauren Duncan. Katie Lanter and Nick Weismiller are joining the ranks at SRJHS.

Moorhead voiced appreciation to the Versailles Tyson Fund for a $60,000 grant that helped provide improvements to the track at the HS/JH facility. With these funds, SR was able to make improvements that assisted with water drainage as well as to provide a new track surface for the facility. Construction is progressing on the new roof at SRES and is expected to continue through the first few months of school. The longstanding issue has been a concern at the school for some time and the new construction is making a dramatic improvement to the building's exterior.

"We are excited to kickoff another school year at South Ripley and are looking forward to another outstanding school year!" Moorhead stated. "We want to invite everyone to our Community Kickoff Event on August 1." South Ripley's website is www.sripley.k12.in.us. Please log on to see a list of all the 'back to school' dates and events at SR.

Milan Schools
Milan students will officially begin classes on Thursday, August 3 as well. Staff will report on July 31 for preparation meetings and staff development. Milan will join with Jac-Cen-Del and South Ripley teachers to hear national presenter, Dave Weber, on August 1. Weber, one of the county's most sought after speakers, offers a high energy presentation encouraging meaningful relationships. He is the author of Leadership Redefined: The 12 X's of Success for Today's Leaders and Sticks and Stones Exposed: The Power of Our Words.

Superintendent Jane Rogers announced that fifth and sixth graders are coming together this year at Milan Intermediate School. Milan Elementary School houses grades kindergarten through fourth. Milan Middle School is the home of seventh and eighth graders, and Milan High School has grades 9-12.
"For the ease of families, Milan offers online registration and fee payment," Rogers explained. "Families may go to the school website to begin this process" Milan School Corporation's website is www.milan.k12.in.us.

School offices will be open July 25-27 to accept new students and families who request help with online registration. Evening hours are available July 27 for grades 5-12, and August 2 for grades K-6.

All Milan schools will have Open House Orientation events. Students and parents are encouraged to attend. Dates are: July 31 Fifth and Sixth Grade Orientation at 6:00 p.m.; August 1 MES Open House and Meet the Teacher Night from 5:00-7:00 p.m.; August 2: MMS and MHS Open House from 3:15 - 7:00 p.m.

Since implementing one-to-one technology four years ago, Milan students continue to use technology to enhance learning. Computer science classes as well as coding will be offered this year and Milan High School students will continue to have the opportunity to take advanced placement class and dual credit classes through Ivy Tech.

There are also new programs to help students succeed and prepare for life beyond high school, according to Rogers. "Students in grades K-6 will experience The Leader in Me, a whole-school transformation model and process developed in partnership with educators that empowers students with the leadership and life skills they need to thrive in the 21st century." Rogers explains that The Leader in Me starts from a powerful premise — every child possesses unique strengths and has the ability to be a leader — which shapes the views of staff to value and develop the whole child. The process integrates leadership development into existing programs and serves as a foundational operating system for the school, improving relationships, transforming culture, and highly motivating staff and students.

Students in grades 7-12 will continue with a focus on preparing to be successful in high school and beyond with a daily GP period. GP stands for Graduation Prep and it is time designated for the students to be mentored by a teacher who will advise students as they discover their own strengths and interests. The mentoring process will be guided by the use of Naviance, a comprehensive college and career readiness platform that enables self-discovery, career exploration, academic planning, and college preparation.

Facility updates that have been completed this summer include a drainage project around the elementary school, seal-coating the elementary playground and the middle school parking areas. The corporation will be using a new telephone system which adds phones to all classrooms and voice mail capabilities.

"The Milan team of faculty and staff are excited to welcome our students and families back for another fantastic year of learning," comments Rogers. "With our new and existing programs, we have a great deal to offer our students. We have a supportive community and look forward to partnering together for student success."

JCD Schools
Jac-Cen-Del School Corporation has been busily readying for 'back to school' as well, according to Tim Taylor, JCD Superintendent.

"Jac-Cen-Del is excited to introduce the Raptor identification system. Our new Student Resource Officer, Dan Goris, will be registering students and parents into this system. It will be used in our schools this year to help ensure our students' safety." Taylor states that over 18,000 schools nationwide trust Raptor to protect their students. "The system will allow us to quickly screen out registered sex offenders, manage custody issues, coordinate volunteers, and respond to emergencies."

Also new at JCD is the implementation of a random student drug testing program. Students in grades 9-12 who participate in athletics, extracurricular activities, clubs, or drive to school, will be participants in this program. A new student activity code of conduct has been approved and closely resembles the athletic code. "These efforts support our goal of promoting drug free students, in an ever growing epidemic of drug use, so they can reach their full potential. It is important to understand our intent of student drug testing is not to punish a student but to help them succeed scholastically," stated Superintendent Taylor.

Jac-Cen-Del has made some changes in the transportation department as well. "We have eliminated the early and late buses, plus removed one bus route to make our routes more efficient." Taylor says the rerouting may cause some changes in the bus students will ride this year to and from school but assures parents that transportation will be business as usual.

The school board recently approved the morning latchkey program at Jac-Cen-Del Elementary. "This is an effort to assist our parents who need to drop off their students early in order to get to work," Taylor notes. The program will run from 6:30 to 7:30 a.m. and will cost $2.00 per day. "This is a great program for those parents needing an alternative for their student(s) before school that works with their professional schedule."

New at the high school this year is a program entitled Achieve/Explore. Taylor explained the program: "During 6th period on Tuesdays students will be in Achieve, which will be a time to work on assignments, study for up coming assessments or read quietly. On Thursdays students will choose an Explore class, which will be a high interest elective that gives them an opportunity to learn more about something they are passionate about. We are excited to have this opportunity to help students explore their interests."

JCDHS will be offering Intro to Computer Science and AP Computer Science this year for the first time. Students interested in either of these courses but not yet registered for Computer Science should see Mrs. Caudill in Guidance for enrollment in these courses. The school calendar and other information can be accessed at JCD's website at www.jaccendel.k12.in.us.

"We are excited about the possibilities that the upcoming school year will provide for our students," Taylor said. "Our staff strives to provide our students with a first class education with a personal touch."


Sailors defend against ballistic attack
Moore serving at Navy missile defense site

A Madison Consolidated High School graduate and Madison native is part of a new and unique Navy command providing critical missile defense to a large part of Europe. Chief Petty Officer Aaron Moore is a master-at-arms serving at Naval Support Facility Deveselu, one of the Navy's newest commands defending against the threat of ballistic missiles. A Navy master-at-arms is responsible for policing the base and protecting it against terrorism. "Leading sailors is the best thing about my job. I have 63 on my team right now and they are like family," said Moore.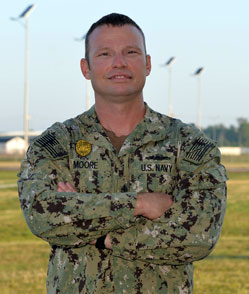 SUBMITTED PHOTO
Pictured left is Chief Petty Officer Aaron Moore.


NSF Deveselu is the first Aegis Ashore Missile Defense Facility placed into operation, providing support to NATO's overall ballistic missile defense system. Commissioned in October 2014, the installation is home to U.S. Navy sailors who work with their Romanian partners to defend against the threat of a ballistic missile attack.

"The importance of our sailors' mission in Romania can't be overstated," said Capt. Jon Grant, commander NSF Deveselu. "Because we are here, our combatant commanders have a lot of flexibility to position their sea-based missile defense assets where they'll have the largest strategic impact, and that wouldn't be possible without our sailors stepping up to the plate and knocking it out of the park 24/7, 365 days a year."

Assigned to U.S. 6th Fleet, sailors are on watch throughout the European region and are important assets supporting the European Phased Adaptive Approach to enhance the security of that area of the world from ballistic missile, according to Navy officials.

Navy personnel at NSF Deveselu are supported in their efforts by forward deployed units in Rota Spain, such as the Arleigh-Burke class guided-missile destroyers USS Ross (DDG 71), USS Porter (DDG 78), USS Carney (DDG 64), and USS Donald Cook (DDG 75). Having four destroyers based in Rota gives the U.S. 6th Fleet flexibility to send these ships to a variety of locations for a range of missions, while at the same time providing a large umbrella of protection for European allies. Approximately 200 officers and enlisted men and women are stationed in Deveselu. Their highly specialized jobs are critical to mission success, according to Navy officials. "I never thought I would be in Romania," said Moore.

Living abroad is challenging, Navy officials explained. The young men and women are highly motivated and quickly adapt. The sacrifices are worthwhile to ensure the safety of our allies and loved ones back home. Supporting this important mission, Moore explained that his fellow service members know they are part of a legacy that will last beyond their lifetimes.

"I joined for the sense of accomplishment and pride the Navy brings," said Moore.