Pick up a copy of the newspaper at your local newsstand!






PAGE UPDATED BY MARIA SIEVERDING SEPTEMBER 28, 2017 1 P.M.


Part 1 of 3: Breathing life into our local justice system
A look at Ripley County Court Services

Jared Rogers
STAFF WRITER

Just over two years ago, our county judiciaries made a seemingly subtle, yet significant structural change to the way it served and presided over the law in our communities. A combining of two departments occurred: the well-known probation department joined a newly formed community corrections department to become known as Ripley County Court Services.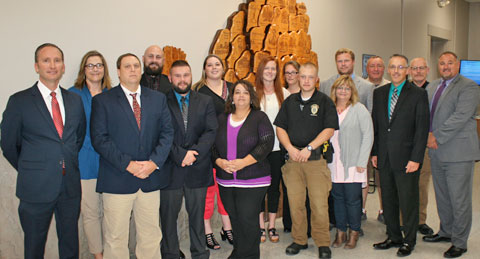 JARED ROGERS PHOTO
Court Services staff are busy in the community providing supervision and programming. Pictured from left to right: Judge Ryan King, Aimee Cornett, Bill Belew, Cody Tillison, Jim Schoonover, Jenny Wise, Rebecca Haessig, Wesley Hollingsworth, Kerri Fox, Ethan Back, Julie Gilland, Jacob Garvey, Rob Bradley, Shannon Schmaltz, Brent Casebolt, and Judge Jeff Sharp. Staff not pictured: Vicky Hensley and Joe Mann.

Director of Court Services Shannon Schmaltz explains why this is significant: "Many counties in Indiana have probation and community corrections departments that are separated. These entirely different entities often don't communicate well, and they work in different office buildings in different parts of town. It made sense that we could serve our community better by bringing them together."

A host of new programs proceeded the mid-2015 restructure, along with implementing new strategies in existing programs, with hopes to, "Make the community a safer place through a balanced system of evidence based practices and services to offenders," as stated in the department's mission statement. Additionally, in its vision statement, the department says it strives to, "Provide meaningful, affordable, cost effective alternatives to juvenile and adult offenders in an effort to instill individual accountability, while redirecting behaviors using evidence based practices to provide successful integration into society."

If these statements seem meaningful, but complex, it is indeed because the department itself is impressively multifaceted. Schmaltz, now in his 22nd year working with the Ripley County justice system, expands upon these statements to make them understandable to the everyday resident, as well as to those who are more involved in the court system, whether as offenders or service providers.

"To 'Joe Taxpayer,' programming isn't as important as having a feeling that their community is safe and their taxes are being well-spent," Schmaltz says. He explains that the rejuvenation of his department has not changed the "front-line" presence and availability of police officers in the county. Funding, on the other hand, and to the interest of a taxpayer, has changed in recent years.

Since its inception, Court Services has expanded from a staff of four to 16 (a mix of full- and part-time positions). Since 2014, administration of drug screens to probates has increased 33%. Since ten years ago, it has increased by close to 90%. Community Corrections home visits have increased over 75% since 2015. Statistics like these show that more work is being physically done by employees of Court Services than when it was simply the Probation department.

One might think that more employees and more work output means more tax dollars are needed. Surprisingly, Court Services has decreased its tax-based budget in 2017 by 23% compared to 2014. That's right, the department is spending close to $100,000 less this year in tax dollars while ramping up community presence and programming
.
This is possible thanks to the securement of grants. Close to $400,000 of grants were sought out and awarded to the department in 2016, leading to its ability to have greater presence on the front-line, and implement meaningful services on the "back-end."

Schmaltz says of programming, "We're in the business of behavioral change." He compares civil and criminal offenses themselves to the tip of an iceberg. "We see the action, but that action is a result of so much more under the surface. Actions spring from someone's thoughts. Their thoughts grow from emotions and beliefs." To actually assist in "correcting" an individual, that is, to help them live a life that is in alignment with shared community standards, this level of the psyche must be addressed.

This is where the newly defined Community Corrections takes center stage. A host of programs are being offered to all ages: The department is teaming up with local schools to better address the needs of students, it is soon unrolling an after-school supervision initiative for at-risk youth, and the adult probation arm takes on service projects big and small, weekly, all over Ripley County.

Stay tuned to parts two and three of this Court Services series to learn more about these promising initiatives.

Editor's note: This is the first in a three part series taking a look at Court Services as they are evolving.


Blood drive at Margaret Mary Health



Every time you donate blood you help save a life. Just ask Ryan Dennis of Versailles. Born with a rare form of anemia called Diamond-Blackfan anemia, this 26-year-old has been receiving blood transfusions regularly for the past 16 years.

"Because my body doesn't make enough red blood cells on its own, I receive three pints of blood at Margaret Mary every three weeks," said Ryan. "I can't stress enough how important it is for people to donate. I'm living proof that your donations saves lives."

Register for the next blood drive, which will be Tuesday, Oct. 10 from 8 a.m. to 5 p.m. at a donor bus outside Margaret Mary Health, Batesville.
For an appointment visit hoxworth.org/groups/margaretmary or call Hoxworth at 800-830-1091.



Tri Kappa's 'Helping Hands' give to area schools

Members of the Versailles-Osgood Delta Rho Chapter of Tri Kappa recently donated over 400 items of clothing for elementary students and over 380 personal hygiene items for junior high and high school students at South Ripley and JCD schools. The Helping Hands committee of Tri Kappa continually seeks out projects to fulfill local needs.


SUBMITTED PHOTOS
Courtney Hughes, left, past president of the Delta Rho Chapter of Tri Kappa, and Jac-Cen-Del staff member, presented Jac-Cen-Del school nurse, Kara Huff the school's donations. The rollover image shows South Ripley Jr.-Sr. high school nurse, Mandy Rohrig, left and Marie Menchhofer corporation and elementary school nurse were thankful for the donated items. (Place your cursor over the photo to view the rollover image.)

The items donated to the schools included deodorant, toothbrushes, soaps, lotions and many items of new clothing. The nurses from both schools, Kara Huff, JCD and Marie Menchhofer, South Ripley expressed their thanks to the women of Tri Kappa for these generous contributions. The items are now available to be distributed to students as the need arises.

Tri Kappa is an organization of women, exclusive to Indiana, who work together to promote charity, culture and education in their communities.