Local youth compete at the Grand American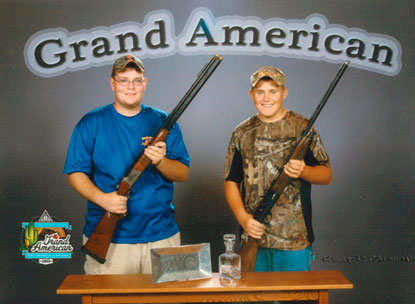 SUBMITTED PHOTO
Matt Strimple and Colton Bright pose with their trophies at the Grand American held in Sparta, Illinois.
By Gary Franklin
SPORTS EDITOR

Nine local youth and their parents traveled to Sparta, Illinois, to compete in the Grand American National World Trap Shooting competition, August 9-11.
Five of the nine shooters shot singles, handicaps and doubles each day for a total of 900 rounds over the weekend.

Others competed in the singles and/or handicap events. Those shooting at the Grand were Caleb Cumberworth, Kelsey Cumberworth, Emily Cumberworth, Ethan Cumberworth, Colton Bright, Evan Ponsler, Evan Land, Matt Strimple, and Jake Vannatta.
Two shooters claimed trophies at the Grand this year. Matt Strimple, son of Rex and Brenda Strimple, won the Kreigoff Handicap Event, after a shoot off with three other shooters to take his trophy. Strimple also competed in another shoot off during that weekend, but came up one shot short. Colton Bright, son of AJ and Samantha Bright, took third place in C Class in doubles on Friday.

These boys were competing against shooters from across the United States and several countries. "This was a great accomplishment," stated Lynn Cumberworth, wife of Coach Mike Cumberworth. Coach Mike Cumberworth stated how proud he was of the Crusher Shooters. Five have traveled all summer to compete in the Tennessee, Ohio, Kentucky, and Indiana state shoots along with also competing at the Indian Creek Shooting Center in Georgetown, Indiana, for the Indiana Southern Zone and Seitz Memorial Shoots.

They have either competed in shoot-offs or brought back trophies at each of the shoots this summer and are hoping to compete in several shoots slated this fall as well.

Solid effort with awesome accomplishments!!