PAGE UPDATED BY MARIA SIEVERDING MARCH 1, 2016 11 A.M.

Pick up a copy of the Osgood Journal at your local newsstand.




Road to the Championship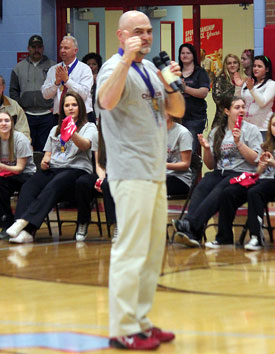 GARY FRANKLIN PHOTO
JCD Lady Eagles Head Coach Scott Smith addressed the crowd at the celebration held at JCDHS and congratulated his team.
Gary Franklin
SPORTS EDITOR
The Jac-Cen-Del Lady Eagles are the Annual 2016 Ripley County Champs, the 6-0 ORVC Conference Champs and the IHSAA Class 1A Sectional #60 Champs via game victories by scores of 65-42 over the Hauser Lady Jets and 51-21 over the Southwestern Shelbyville Lady Spartans in the Sectional Championship. JCD was the 43-37 Regional victor over the Bloomfield Lady Cardinals and acquired the Regional Championship Title after a 66-47 triumph over the Indianapolis Tindley Lady Tigers, which earned them a spot in Final Four championship action held at Jeffersonville High School. There, they defeated the #1 state ranked Vincennes Rivet Lady Patriots by a 46-43 final count.
At 26-1 the Jac-Cen-Del Lady Eagles battled for the coveted IHSAA Class 1A Girls Basketball State Championship Title at Bankers Life Fieldhouse, Indianapolis on Saturday morning, February 27, against the Argos Lady Dragons where they won 57-39.