Pick up a copy of the newspaper at your local newsstand!





UPDATED BY MARIA SIEVERDING MARCH 14, 2017 3 P.M.

Send us your Easter happenings!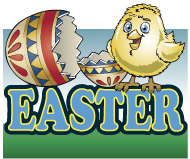 Be sure to send in information on your Easter events. We need those in our office by April 3 to include them in The Versailles Republican on April 6 and again in the Osgood Journal on April 11.

It's free!
There is no charge for this. Send to wburnett@ripleynews.com or drop off at our office on Washington Street (next to the post office) in Versailles. You can also mail them to Ripley Publishing Co., P.O. Box 158, Versailles, IN 47042.
---

PAGE UPDATED BY MARIA SIEVERDING MARCH 16, 2017 1 P.M.

DJ Adkins & the Centerline Band: Making magic through music

Jared D. Rogers
CONTRIBUTING WRITER

"It's what I call the magic: When you look out in the crowd and see people singing and dancing along with the music, and we're the ones creating those sound waves, making people's night — that's the ultimate. You can't put any amount of money on that feeling."
— Steve Schonegg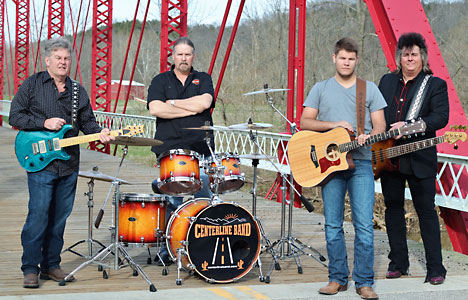 SUBMITTED PHOTO
Pictured at left Centerline Band members are ready to make music wherever they are. Members are Steve Schonegg, Doug Banta, Dean Crafton and youngest singer, acoustic guitarist, DJ Adkins, who is just 21 years old. He's been performing since kindergarten. The seasoned musicians welcome DJ and they all enjoy entertaining others through their various talents.


There is no doubt that the Centerline Band has the magic flowing amongst them, and they work to bring that energy to each and every performance in the tristate area. Schonegg plays drums and provides vocals. He is the founding member of Centerline, which dates back to 1985. Doug Banta, bass guitarist and vocalist, joined in the early 90's. Dean "Deano" Crafton adds decades of experience with his lead guitar. Ironically, the lead singer, acoustic guitarist, and rising star, DJ Adkins, wasn't born until 10 years after the group formed.

Adkins, 21, raised in Aurora (South Dearborn class of 2014), discovered the magic of musical performance all the way back in kindergarten. DJ says, "Mr. Rank, my elementary school music teacher provided me my first opportunity to sing. I had a solo in our annual Christmas concert, singing the introduction to 'Rudolph the Red Nose Reindeer.'" Struggling to learn the words, DJ was fortunate to gain the assistance of his mother and grandmother, both music lovers. "When I finally got it, I called and left a voice message with my grandma I was so excited," DJ remembers. A passion was quickly developing. At 13, DJ went on to perform successfully for his peers at a school variety show, and someone suggested he enter the annual 4-H singing competition. While his initial competition was a disappointment, that experience led him to a now long-time connection, Ron Anderson, who introduced him to vocal coach Pam Leitzinger.

"She has been the most influential person in my musical career," DJ affectionately spoke regarding his teacher. "For the first six to eight months, we didn't even sing. She taught me how to breathe first. She was patient to lay the foundation for me to become a great singer." DJ went on to win the 4-H contest the next year. Then, he achieved a perfect score at Indiana's Solo & Ensemble contest as an 8th grader, competing with high school seniors. Later, he even earned the chance to participate in the sixth season of NBC's singing talent show "The Voice." In discussing this, DJ's authenticity as a courageous young man shone. Through contemplation, he realized he didn't feel true to himself or his roots and made the difficult decision to withdraw from the competition.

Regardless, his momentum as a budding professional continues. When asked how music has shaped his life, DJ replied, "Music hasn't shaped my life - music is my life. It is an everyday obsession, it fuels everything I do. I am really in love with listening to all kinds of music, and to constantly improving my abilities." DJ performs solo with his acoustic guitar several nights a week in the tristate area, and it happened one night that Ron Anderson invited his neighbor, Doug Banta, to hear the young man perform. Doug was impressed enough to invite DJ to sing with Centerline at their next practice, and according to bandmate, Steve, "We fired out songs left and right that first night; it clicked." Thus, a unique dynamic was born: The chance for an aspiring young musician to perform with and learn from a group of seasoned veterans.

"We have fun in Centerline," 'Deano' explains with a smile. The others agree. "It's four good guys, we're all consistent, we're like a family," DJ adds. The guys are quick to mention a few others who play vital roles in the success of the band. There's Barney Bells, whom they affectionately rib as "our roadie," who is into his 70's. "Barney helps us set up and tear down, he loves being a part of the fun, and he doesn't ask for a dollar," Steve says, "But we do buy him dinner. He's our fifth member." And there's Janie Werner, the band's website, Facebook and scheduling manager. "She looks out for us, and we love having her," Steve says, and DJ chips in, "She keeps everything in line!" DJ also appreciates the lifelong support of his mother, noting she's always a part of his decision making.

Not only does the band enjoy being together, they thrive on performing well for their fans. "We don't want to see any frowns in the crowd," Doug says. No matter the venue, the group says they carry themselves with a sense of responsibility and pride so they can perform their best to earn those smiles and cheers. Regarding his responsibility as a role model for young people in our community, DJ responded, "I do try to carry myself in a way that people will respect me. I don't go around causing trouble. I keep myself healthy because I want to do this for a living."

His message for youth? "The most important thing in life is being true to yourself. Don't get above your raising. I know where I came from, and I've been true to myself my whole life. And for that, I'm happy." The veteran musicians in Centerline strive to continue to improve through the years. Wanting the best for their young companion, they hope to reach an exposure level that will help boost DJ's future career. They hope to see you at one of their upcoming shows, too, so you can enjoy their wide range of country (both new and old) and classical rock music.

They perform at Pollard's Bowl in Versailles on Saturday, March 18 beginning at 9:30 p.m., and at Vic's Pub at Rising Star Casino on March 31 and April 1, beginning at 8 p.m.


National Agriculture Week: March 19-25
Understand hardiness zones before planting

Gardening benefits the environment in myriad ways. Maintaining natural landscapes and preserving green spaces can reduce the collective carbon footprint of the human race. Trees, flowers and other greenery filter the air and create welcoming habitats for all species of animals and insects.
Many home gardeners set out each spring to create landscapes that cater to all of the senses. But choosing plants that are unlikely to thrive in certain climates can lead to dissatisfaction and premature plant demise and may require gardeners to use more fertilizers, pesticides and other not-so-Earth-friendly techniques to help plants thrive.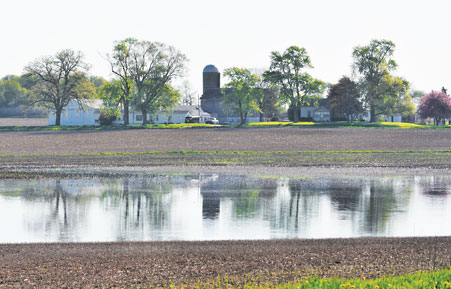 PHOTO COURTESY OF METRO CREATIVE

One of the more important steps gardeners can take before spring arrives is to educate themselves about plant hardiness zones. Hardiness zones are defined by the average climatic conditions of the region and are broken down into various zones. The USDA Hardiness Zone map divides North America into 13 separate zones. Each zone is marked by 10 F incremental differences from the last zone. In some versions of the map, each zone is further divided into "a" and "b" regions.

The National Gardening Association says the USDA Hardiness Zone Map was revised in 2012. The latest version was jointly developed by the USDA's Agricultural Research Service and Oregon State University's PRISM Climate Group.

To help develop the new map, the USDA and Oregon State University requested that horticultural and climatic experts review the zones in their geographic areas. As a result, the zone boundaries in the 2012 edition of the map have shifted in many areas. Canada's Hardiness Zone map, updated in 2010, uses nine different zones. Zone maps are tools that show where permanent landscape plants can adapt. Home gardeners who are looking for shrubs or perennials to last year after year should recognize that such plants must tolerate year-round conditions, including the lowest and highest temperatures and the amount of precipitation. Snow cover and humidity also can impact a plant's propensity to thrive.

While zone maps are not perfect, they can be useful in planning and ensuring the survival of future gardens. Plant and seed manufacturer Burpee says that other factors to consider that also affect the viability of plants include wind, moisture and soil conditions. The company offers an interactive zone finder on their website that will indicate the hardiness zone as well as average first and last frost dates. Visit www.burpee.com/findgrowzone to enter a zip code.
Learn more about plant hardiness at planthardiness.ars.usda.gov/PHZMWeb.



---
PAGE UPDATED BY MARIA SIEVERDING MARCH 2, 2017 1 P.M.
We love to hear from you!
Share your news with the community!


• Send us your school news!
Send your articles and photos to
mariasiev@ripleynews.com
or
wburnett@ripleynews.com
for publication on the School News page of The Versailles Republican. Include with your submission a description of the event and names of persons in the photo(s). Please submit all photos as original, print-quality images. Send articles and photos as email attachments or submit via Google Docs and Google Drive.
• Got a news tip or photo?
Submit past images or news tips along with a description to Wanda Burnett at
wburnett@ripleynews.com
,
publication@ripleynews.com
or to PO Box 158, Versailles, IN 47042. Call Ripley Publishing at 812-689-6364 for more information.
---
Local Bulletin Board
Deadline is March 17
Margaret Mary Health accepting scholarship applications
Margaret Mary Health is now accepting applications for its scholarship program. To qualify, applicants must be pursuing degrees in the health care field, be a full-time student and maintain a grade point average of 3.0 or higher. Recipients receive an initial award of $3,000 and $1,000 each year up to three years. Applications are available at the hospital, area high schools or online at
www.mmhealth.org
. Completed applications must be returned to human resources by March 17, 2017. For more information call 812-933-5259.
Reservations due March 18
Art in Nature II to offer free art classes
Are you a budding artist but never got to try your hand at watercolor painting, wood turning, or recycled art? Art in Nature is the perfect opportunity to feel free to attempt artistic aspirations guided by talented local artists ready with the tools you need. Scheduled for Monday through Saturday, April 3 – 8, at the Recreation Hall in Versailles State Park (VSP), classes will be held nightly from 6 – 8 p.m., plus a jewelry making class Saturday from 1 – 3 p.m., and an art show of all the created art Saturday evening from 6 – 8 p.m. For a complete schedule and how to register pick up a copy of the Osgood Journal dated January 31, 2017. Newspapers can be purchased at the Ripley Publishing Company located at 115 S. Washington St., Versailles.

Deadline is March 31
Sheriff offers scholarship for local students
Ripley County Sheriff Jeff Cumberworth is accepting scholarship applications. The "Mums for Education" program has raised enough money for three $1,000 scholarships to be given to students who are pursuing a degree in criminal justice. For more information and how to apply pick up a copy of the Osgood Journal dated February 28, 2017. Newspapers can be purchased at the Ripley Publishing Company located at 115 S. Washington St., Versailles.
Deadline is April 1
Friendship State Bank to award scholarships
The Friendship State Bank will award nine seniors a $1,000 scholarship for college. The bank has been awarding the Wilke S. and James W. Lemon Scholarship for over 20 years. Seniors from Batesville, Jac-Cen-Del, Rising Sun, Milan, South Dearborn, South Ripley, Switzerland County, Madison, and Lawrenceburg are eligible to apply. For more information and how to apply pick up a copy of The Versailles Republican dated March 16, 2017. Newspapers can be purchased at the Ripley Publishing Company located at 115 S. Washington St., Versailles.
Deadline is May 5
New Point Vol. Fire Dept. / Miller Family Scholarship offered
The New Point Volunteer Fire Dept. / Carl H and Goldia Miller Family Scholarship Program will award four $500 scholarships to 2017 graduating seniors. These scholarships are awarded based on community service completed by the student during high school. Graduates from Batesville, Jac-Cen-Del, Greensburg, North Decatur, and South Decatur High Schools who have applied, been accepted and plan to begin their studies in 2017 may apply. For more information and details on how to apply pick up a copy of the Osgood Journal dated February 28, 2017. Newspapers can be purchased at the Ripley Publishing Company located at 115 S. Washington St., Versailles.