Pick up a copy of the newspaper your local newsstand.

PAGE UPDATED BY MARIA SIEVERDING SEPTEMBER 19, 2017 1 P.M.
Margaret Mary Health Center of Osgood expands
Wanda English Burnett
EDITOR
Margaret Mary Health offers more services to the southern part of the county by adding Minor Care and lab & imaging at their expanded Osgood location. Last Thursday, September 14 an open house was held where the Primary Care office is already established on Buckeye Street (US421).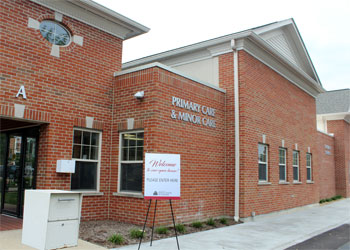 WANDA BURNETT PHOTO
The Osgood Primary Care facility, a part of Margaret Mary Health, has expanded its building and services. Pictured at left is part of the new expansion.
Minor Care offers convenient, timely and quality care to patients who are experiencing less complicated injuries or illnesses, such as a sore throat, small cuts and wounds, simple strains and sprains and more. The hours for the month of September are Monday through Friday 8 a.m.- 6 p.m. Saturday 8 a.m. – noon. Beginning October 1 the hours will be Monday through Friday 7 a.m. – 6 p.m. and from 8 a.m. until noon.
The lab and imaging services will offer tests and results in a timely fashion. Those who see a doctor at the Primary Care, or receive care from Minor Care will find these services convenient. But, they are not limited to those patients only. Anyone with an order from their primary care provider for blood work or an X-ray will find this service available to them. The lab and imaging offices will be open Monday through Friday 7 a.m. – 6 p.m. and Saturday 8 a.m. – noon.
Primary Care providers include Thomas DeCilles, MD, who has been with MMH since 2008; Marcy Baumer, PA-C, who joined the staff in 2014 and Dr. Amy Glaser-Carpenter, who came on board in March of this year.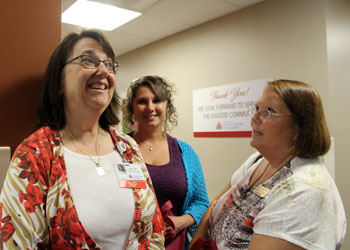 WANDA BURNETT PHOTO
At left, Mary Harrah, NP-C, talking with Holley Rose and Shawna Bushhorn, Osgood residents who are glad to see the health care facility expand to include Minor Care and Lab facilities.
Minor Care providers include Mary Harrah, NP-C and Sue McMullen, FNP-C. Both were in attendance at the open house getting to know the community. During the tour of the facility it was noted that Care Coordinators will be able to make sure some patients do not "fall through the cracks." A room was designated where the coordinators will meet with patients. Also, Transitional Care Management and Wellness Visits are available.
Kathy Cooley, RD was on hand at the open house to provide a delicious taste of Festive Black Bean Chili, and information on classes offered to those who want a healthier lifestyle. There are a variety of services offered from Slim Down Now, to Personal Nutrition Visit. Registration is required for all of the programs. Call 8912-933-5122 to find out more about these programs that have made all the difference in the lives of those who have participated in them. At a luncheon earlier in the day, Tim Putnam, DHA Chief Executive Officer, said their latest endeavor was all about improving health care to the community.
"We learned access to healthcare was a big issue," he noted. That prompted the addition at the Osgood facility and the move to open a health care facility in Milan. He noted the expansion of the facility in Osgood was a response to the need after relationships have been created with patients.
Mary Dickey, executive director of Margaret Mary Health Foundation, spoke on the importance of the foundation noting it was established as they saw health care evolving. She said the foundation makes a difference in the lives of many people. Information provided noted that team members from MMH provided more than $300,000 to the foundation through annual team member campaigns. Dickey invited others to join the effort ensuring the many arms of the health care service can reach to all in need. To find out more about the foundation and how you can participate, contact Dickey at 812-933-5141 or
mary.dickey@mmhealth.org.
Others spoke at the event, including Julie Keene, who is vice-president of physicians services. She said the Osgood facility was "near and dear to her heart". Kimberly Inscho, vice-president of Human Resources/Marketing, welcomed everyone with her warm smile and said it was a great day for the hospital. MMH has three outlying facilities in addition to the full scale hospital in Batesville. There is a Minor Care facility in Brookville; Primary Care in Milan; and now the enhanced Primary Care in Osgood that boasts Minor Care and Labs & Imaging. MMH is among the top 100 hospitals named by the National Rural Health Association.
To find out more about the Osgood facility call 812-689-3424. You can also go online
mmhealth.org
Practical Money Skills: Sporting events on a budget – It's possible with a plan
Nathaniel Sillin
CONTRIBUTOR
Season ticket holder or first timer, watching your team take the field or visiting new teams in a different venue, gripping your seat tightly during the finger-biting last minutes of a close game or cheering on a decisive win – sports can certainly be some of the best entertainment possible. Whether you enjoy baseball, football, soccer, hockey or any other sport, the roaring crowd, sights and smells that fill a stadium have something to offer everyone. A little planning can help keep your costs under control, and you can apply the ideas below to almost any sporting event.
Save money on the tickets.
You may be sticking with your home team through thick and thin, but you can still look for ways to save money. Avoiding the most popular games, such as those on the weekends and when you're playing against big-name teams, can be help
To further maximize your savings, consider the following tips:
• Find tickets on reseller websites. Buying tickets from a scalper could save you money, but it also opens you up to the possibility of getting scammed. Instead, you could look for secondhand tickets on legitimate reseller websites that verify authenticity and guarantee your purchase.
• Connect with a season ticket holder. Try to connect with a season ticket holder who can't make a game and offer to buy their tickets. Even if they're going to the game, a season ticket holder might be able to get you a good deal. For instance, Major League Soccer (MLS) season ticket members can sometimes get a discount on additional tickets.
• Check for an employee discount. Some companies offer their employees discounted tickets to sporting events as a benefit. Government employees and current military members or veterans may also be eligible. However, sometimes you can only choose from a limited list of games.
• Join the fan club. Becoming a member of a team's official fan club can cost $20 to $40 a year and could more than pay for itself with discounts on tickets or gear and access to special events.
• Go during the preseason. Preseason tickets can be especially cheap. In 2016, you could buy preseason NFL tickets for less than $10. You may not get to see your favorite players on the field, but it you could still save money while spending quality time with your kids or friends.
• Try the minor league. A minor league game can be a fun alternative to a major league game. Some of the teams have an enthusiastic and loyal fan base and the stadiums are often smaller, which lets you get closer to the action. The extras, like parking and snacks, are often cheaper as well.
• Timing your purchase can also be important. If you suspect a game will sell out, it may be better to buy early than risk having to pay above face value on a reseller site. With less popular games, ticket prices tend to drop as game day approaches.
• Compare transportation options. Public transportation isn't a guaranteed money saver if you're going with a large group. Carpooling or splitting the cost of a ride from a car-sharing app could be cheaper. If you're driving, look for off-premises parking lots. You may need to walk a bit, but you'll also be able to save money and might avoid some of the post-game traffic.
• Eat before and bring snacks. Everyone knows stadium food is expensive and filling up on a big meal before the game can help you avoid cravings. Unbeknownst to some fans, stadiums might let you bring in outside food. However, there's often a strict bag policy, which could limit the size of your bag and may require bags to be transparent. Check the stadium's policy closely and call the team's office if you need clarification.
Bottom line
A sporting event can be a wonderful way to build memories and spend a day with your friends or family. However, the expenses from a single game can quickly stack up if you're not careful. Luckily, there are many ways to save money on tickets, transportation and food and still have a memorable experience.