Pick up a copy of the newspaper your local newsstand.


PAGE UPDATED BY MARIA SIEVERDING SEPTEMBER 26, 2017 11 A.M.
Recording artist Dustin Huff to perform Saturday at Versailles Pumpkin Show
Sandy Day Howard
CONTRIBUTING WRITER

"Look a man in the eye when you shake his hand don't ever give up and tell yourself you can't, if someone doubts you, boy, prove them wrong. 'Cause good things come with hard work and time. And always keep the Good Lord by your side, but most important, son, remember where you came from."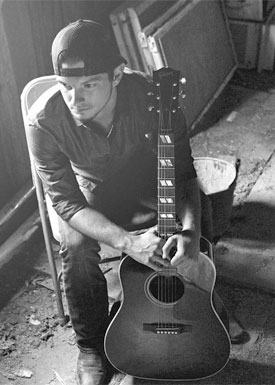 SUBMITTED PHOTO
"I'm just a real artist that people can relate to and can have a good time with."
Pictured is Dustin Huff.
That advice was from Brian Huff to his son several years ago as the nineteen year old left rural Indiana to head for the lights of the country music capital, Nashville Tennessee. Brian didn't know it then, but those wise words from a good man to his boy would soon be echoed through speakers from radio stations across the country. Dustin Huff was on his way to becoming a country music star and he was taking his daddy's words along for the ride.
When Dustin wrote 'Remember Where You Came From' at age 21, it was a culmination of everything his father told him before he hit the road a few years before and an epitaph of who he sees himself to be.
You can see Dustin perform live on the Versailles Pumpkin Show stage on Saturday, September 30 at 4 p.m. He will make an appearance later that same evening at Pollards in Versailles.
"I'm just a real artist that people can relate to and can have a good time with." Huff says. "There's nothing fake about me and people see that when I take the stage or when they hang out with me after a show."
A 'good ol' boy' from Decatur County, Indiana, who grew up 'in the middle of nowhere', Dustin loves singing country music and writing songs that make people feel something. "Everything I write is real from-the-heart-kind-of music that people can relate to. After writing his first songs at age 14, Dustin's passion for writing and performing only grew stronger and he found himself longing to be in the middle of the action in Music City. And so, he followed his heart to Nashville.
Being a songwriter and performer living in Tennessee, Huff is a long way from Gaynorsville Indiana, an unincorporated "burg" just outside Greensburg. He spent a lot of time in Ripley County when he was growing up as both his dad and mom, Lisa, had a lot of family living in the area. Brian was in a band when Dustin was little and that, he says, is what spurred his interest in music. When he was 12, his dad taught him to play guitar which seemed to go hand in hand with the kind of music he was learning to love. "I grew up on old country music because that's all my dad listened to!"
In 2015, at just 21 years old, Dustin released his debut EP "Comin' Back Home" and soon after released another EP, "Rebels Like Me." One of Huff's most popular songs can be found on the "Comin' Back Home" album. The song, 'Nothin' But a Memory', is a best seller online and tells a tale of teenage love and a 'one time, way back when' that faded away.
"All my songs I write have their own special meaning to me in a different way." The artist co-wrote "Girl In A Bar" (a hugely popular tune that is playing non-stop on stations across the country) with Brendan Roberts.
Huff's most recent single "A Little Summertime" hit the airwaves in June of 2017 . It was an instant hit on country music stations and the song had over 25,000 streams the first month. The lyrics are about a good ole' boy anticipating the summer sun, who is long overdue for some rays, waves, and July fun. The cover features Dustin poolside, kicked back in a lawn chair wearing jeans and work boots with a beer in his hand, joined on either side by a bikini clad hottie. (The cover was shot by the pool at the Holton home of Dustin's Uncle and Aunt's, Phil and Kelly (Huff) King. The two girls on the cover are friends of Dustin's cousin Kasey.
The young musician is on the road nearly every weekend playing shows and building a fan base in the Midwest and throughout the south. Huff's career has taken him all over the US: California, Wyoming, Colorado, North and South Carolina, Georgia, Illinois, Alabama, Kentucky, Indiana….the list goes on.
"I do music full time. I write songs during the week in Nashville with other writers/artists and am on the road performing the rest of the time."
I wondered who and what inspires Dustin Huff. So I asked him. His reply was sincere and immediate. "People around me inspire me. My family and friends inspire me."
Huff claims he gets a lot of ideas for his music from past relationships and from his own life. "If we're talking about another artist that inspires me it would have to be a guy named Travis Meadows. The first time I ever heard him play it changed my life. He made me want to write great songs, not just mediocre stuff."
On the infrequent weekends Huff isn't sharing his music, he likes to come back home. In addition to his many buddies, local fans and friends, and Hoosier parents, 'Ol' Huff" has two older sisters Jamie Huff and Laura Walsman and is an uncle to nine year old Chase and Easton, who is three. Dustin says his family and friends support him '100%' in everything he does.
"They are a huge reason why I come home a lot. They want to see me succeed in the music world whether it's performing or just as a songwriter. They're proud that I'm following my dreams." People in rural Indiana love that about Dustin and can tell that he's 'one of them'. "Indiana made me who I am today and it'll always be home to me, I'm gonna put rural Indiana on the map one of these days!"
Music has taken me to places that before, I thought I'd never see. I've made a bunch of friends that I would've never met if I wouldn't have made the move to Nashville. I'm thankful that I get to get up every day and play/write music!"
It would seem that Dustin is living out his song, "Remember Where You Came From". It's where he's going that everyone is watching now.
Dustin's music is available on iTunes, Google Play, Amazon, Pandora, and Spotify among other places. For more on the singer/songwriter and his music, log onto
www.dustinhuffmusic.com
. He can also be found on Facebook.