Pick up a copy of the newspaper at your local newsstand.






PAGE UPDATED BY MARIA SIEVERDING SEPTEMBER 26, 2017 11 A.M.


Milan Indians secure 2017 Boys Tennis Conference Champion Title

Gary Franklin
SPORTS EDITOR

The Milan Indians Boys Tennis Team have once again had a productive season to date behind the lead of Milan Head Tennis Coach Zach Wade. Currently, the Tribe is entering the final week of their regular scheduled fall season for 2017 with an 8-4 record. The Indians battle against the South Dearborn Knights on Monday, Sept. 25, the Greensburg Pirates on Tuesday, Sept. 26 with Sectional Tournament action beginning on Wednesday, Sept. 27. As Coach Wade reported, "The Indians season highlights came early with wins over the Madison Cons. Cubs and the Southwestern Hanover Rebels, (two teams that the Indians have been unable to beat in recent years)."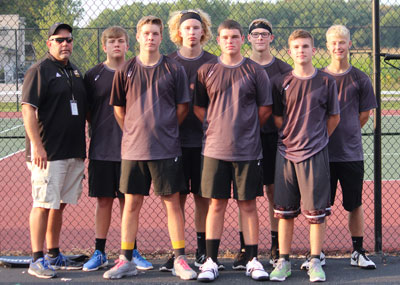 GARY FRANKLIN PHOTO
The 2017 Boys Tennis Conference Champion Milan Indians Team pictured above from left are Coach Zach Wade, Bo Wade, Carter Wade, Clayde Ascherman, lone senior Peyton Cann, Cameron Henkel, Ethan Honnert and Brent Quatman.


Milan also earned the Southern Indiana Tennis Conference Championship Title during the all day tournament held at Hanover College. Tournament action found Milan defeating Trinity Lutheran 4-1, then facing Southwestern Hanover in the tournament finals, winning in dramatic fashion 3-2. (The teams met in the finals in 2016 with SW Hanover winning 3-2).

The Indians placed four members on the ten member All-Conference Team; #1 singles Peyton Cann, #2 singles Carter Wade and #1 doubles Brent Quatman and Cameron Henkel, where both #2 singles Wade and #1 doubles Quatmann/Henkel were undefeated throughout the conference tournament.

Their Wednesday evening, Sept. 20, home challenge in over 90 degree heat above the court surface was against the visiting 4A East Central Trojans, where following their match, Coach and the crowd honored their only senior player, Peyton Cann with a courtside grill out and pitch in with drinks and snacks. Cann is a player that has meant so much to the tennis program. He is the team leader and often an assistant coach during practices.